Articles
Published on September 18th, 2012 | by METC
0
The Wii U Experience: Compelling or Repelling?
As I sit here, reading the praise and bile directed at Nintendo's recent Wii U presentation, I can't help but feel as though both sides of this spectrum are extremely misguided. You see, in the time between E3 and PAX Prime, Nintendo hosted several hands-on, invite-only events all over the United States in what they called, the "Wii U Experience". I lucked out and managed to get invited and even managed to bring two friends with me. At the event, we got to play the Wii U and its games. Thus, whenever I see comments like "Oh, this game looks super bad," or "Oh, this game will definitely be amazing," I can't help but shudder a bit. These opinions are based on nothing but assumption and guesswork, and as developers continue to push the bounds of how we interact with our games, it's becoming even clearer to me that the only way to form an informed opinion, that actually means anything, is to play the game, which I realize not everyone has had the chance to do with the Wii U at this point.
As such, I will provide what I believe to be my informed and meaningful opinions on the games I played at the Wii U Experience, in the convenient order of most to least favorable.
Rayman Legends – The level I played of Rayman Legends was the same castle/music level demoed at E3, but now that I've played it, my excitement for the game has risen to great heights. Rayman Origins was a beautiful game, from its art style to its music to its control scheme and level design. Rayman Legends fails to disappoint in any of these regards. Based on the booth rep's reaction to me asking to use the headphones they had available (this was the only station where this was an option), not many people tried this game with the headphones, which is a shame. The music was not only fantastic and what you'd expect from the Rayman series, but an integral aspect to finishing the music levels. In order to avert further gush and ramble, I'll just say up front that this is truly the game I am most looking forward to for the Wii U at this time.
The Wonderful 101 (Project P-100 at the time of playing)– I wasn't able to fully complete this demo since it was at the very end of the event and they were eager to get us to leave, but I certainly enjoyed what I played. Again, this was the same level demoed at E3, and it felt very fresh and unique. If you aren't aware of what it entails, you basically go around a linear level gathering hoards of panicking townsfolkto act as Pikmin-like entities, except you use them to create large tools like fists, kendo sticks, ladders, hang gliders and a giant mountain of gelatin. This is all in order to fight off a stylized and hilariously overdone alien invasion. It all looks very well made, and it's certainly the most unique game to be announced for Nintendo's new console.
Nintendo Land – Nintendo Land for me does exactly what Wii Sports did for the Wii: provide convincing, engaging and fun ways for players and developers alike to wrap their heads around Nintendo's new controller. I played the Zelda game with the Gamepad and the Luigi's Mansion game twice, once with the Gamepad and once with a Wii Remote. Both games were multiplayer and both games were incredibly entertaining, especially when the Luigi's Mansion game entered schadenfreude-territory. It's one of those games where I had fun playing it, but I'd never pay to get it. Luckily Nintendo saw things the same way, since they announced it as a pack-in title for the Deluxe (Premium in Europe) Model.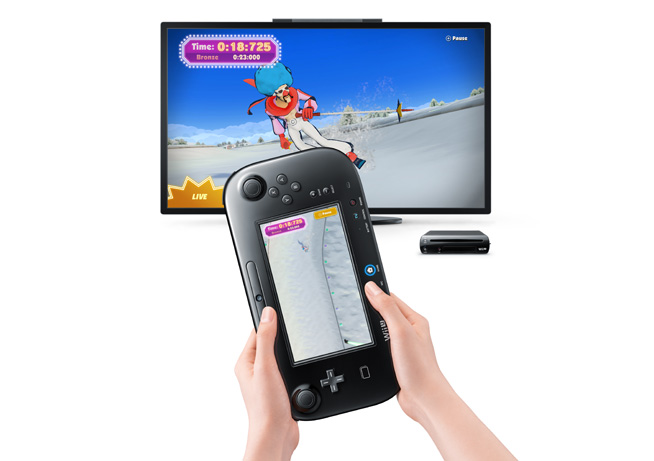 Game & Wario – This was the other minigame compilation I played, mostly as a means for killing time until the Project P-100 line died down [read as: it didn't]. It was odd and entertaining enough, much like your average WarioWare title, but the focus was not on microgames but full-fledged mini games. I'm not
entirely sure what direction Nintendo's going with this one, and I'll be sure to keep an eye on it, but it didn't resonate too well in my mind for some reason.
New Super Mario Bros. Wii U – This one will set a lot of people off for sure. I enjoyed New Super Mario Bros. on DS way back in 2006, and a lot of it was because it was the first 2D Mario game I had actually played (for more than ten minutes). I was frustrated with New Super Mario Bros. Wii because of how Nintendo worked multiplayer into it, with all the characters bouncing off each other and generally being unenjoyable. The levels I played at the Wii U Experience were once again the demoed levels at E3, and just as they seemed then, the series proves it has no intention of ever evolving. Rayman Origins took the idea of a 2D side-scrolling platformer with multiplayer and made it feel fresh. New Super Mario Bros. Wii U only serves to amplify every problem I've had with the series, with the annoying music, homogenous and uninspired art style, the bouncing characters and the overall staleness of the level design and atmosphere. I play games to have fun, and Mario games are games I can almost count on to been joyable, but I can say without a doubt I did not have fun playing the ironically named "New Super Mario Bros. Wii U".
Games have the potential to make people feel things, and be engaged in art form more than any previous form. However, games also can be made simply to have fun and be enjoyed, and that's where the games I played during this event were. While I'm uncertain if the Wii U will prove to be a great console, it's a great piece of hardware with some good stuff on the horizon, and I had fun (for the most part). In conclusion, get a Wii U, don't get a Wii U, the choice is yours, but don't make assumptions on the quality of a game without experiencing the feel of being engaged in it first.